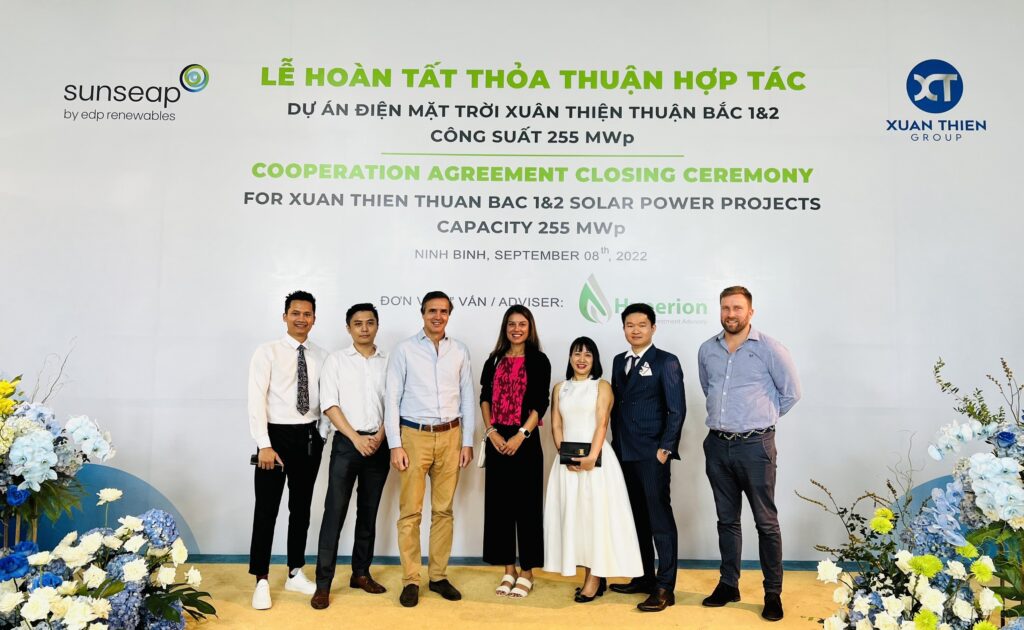 EDPR Sunseap doubles its operational capacity in Vietnam
EDPR Sunseap, the Asia Pacific hub for the world's fourth largest renewable energy company, has completed a U$284 million deal with Xuan Thien Group, paving the way for its expansion in Vietnam. The latest acquisition is the largest utility-scale solar investment for the company.
Xuan Thien Group is one of the main renewable energy developers in Vietnam and its two solar PV projects total 255 MWp under a 20-year Power Purchasing Agreement priced at US$93.5/MWh.
The deal is the first step in establishing a long-term relationship between Xuan Thien Group and EDPR Sunseap to jointly explore opportunities in the region.
EDPR Sunseap Executive Chairman Mr. Pedro Vasconcelos, who is also EDPR's APAC Chief Operating Officer, said: "The deal will help to accelerate the energy transition in Vietnam and the surrounding countries and EDPR Sunseap is committed to bringing in global know-how and leveraging Singapore's strengths as a regional business hub to achieve our mission of creating a decarbonised and electrified world through clean, affordable and reliable energy".
With this transaction, EDPR Sunseap doubles its operational capacity in Vietnam, strengthening its presence in the APAC region. This reinforces the integration of Sunseap into EDPR in February 2022. This is part of its vision to lead the energy transition in Singapore and the rest of the region, with the aim of managing beyond 2 gigawatts (GW) of installed capacity by 2025.
Hyperion Investment Advisory Limited was Xuan Thien's advisor in the transaction.
About EDPR Sunseap APAC
Sunseap APAC is a solar energy system developer, owner, and operator in Singapore, with a pipeline of close to 10 GWac of solar energy projects across Asia. Its solar energy systems are projected to be installed on more than 3,000 buildings in the Asia Pacific region, including public housing estates, as well as commercial and industrial buildings.
EDPR Sunseap also operates in various territories across the Asia Pacific, including Vietnam, Cambodia, China, Taiwan, Japan, Thailand, Malaysia, Indonesia and South Korea. EDPR Sunseap is part of EDP Renewables (Euronext: EDPR), a global leader in the renewable energy sector and one of the world's largest renewable energy producers.
Sources:
https://www.edp.com/en/news/2022/06/27/edp-strengthens-its-position-apac-two-solar-projects-totalling-200-mwac-vietnam
https://apac.edpr.com/sg/news/2022/edpr-sunseap-concludes-acquisition-of-two-solar-pv-projects-in-vietnam-strengthening-its-position-in-apac.html
https://en.vietstock.vn/974-482621/edpr-acquires-two-solar-projects-in-vietnam.htm
https://nhadautu.vn/tap-doan-hang-dau-ve-nang-luong-tai-tao-mua-lai-hai-du-an-dien-mat-troi-tai-viet-nam-d67455.html
https://vietnamnews.vn/bizhub/1337072/edpr-sunseap-completes-acquisition-of-two-solar-pv-projects-in-vn.html
Photos: