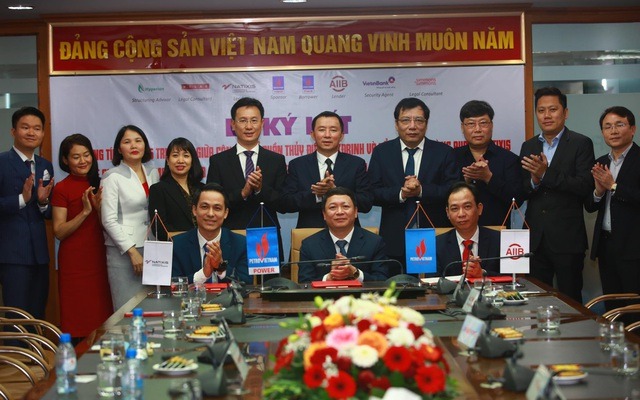 December 14 at the headquarters of PetroVietnam Power Corporation (PV Power), a signing ceremony was held for a $95 million credit contract between Asian Infrastructure Investment Bank, Natixis Bank, and Dakdrinh Hydropower JSC (PV Power DHC). The new loan with preferential interest rate is expected to reduce production costs for the company and provide it additional capital to invest, upgrade, and improve current systems and equipment of the plant to improve operational efficiency and increase profits.
Nguyen Duy Giang, vice president of PV Power remarked at the ceremony: "At PV Power, we not only seek profit but also strive to achieve sustainable and long-term development by balancing harmony in development between people, planet, and profit. The achievement of the credit agreement with Asian Infrastructure Investment Bank (AIIB) – a multilateral bank that has very strict environmental, social, and governance (ESG) standards for the projects it invests in – is the clearest demonstration of our philosophy of adhering to sustainable business development at PV Power. The loan with AIIB, with the highest commitments on ESG matters, is even more meaningful after Prime Minister Pham Minh Chinh's commitments to bring net emissions to zero by 2050 at the United Nations Climate Change Conference (COP26) conference on climate change in Glassgow, UK recently."
Ho Manh Linh, CEO of Hyperion Investment Consulting Co., Ltd., the financial restructuring and loan coordination consultant, shared: "This is the first loan of AIIB in Vietnam in the field of infrastructure and is a loan without government guarantee. AIIB has very strict and comprehensive standards in all matters including financial, legal, ESG, and insurance. The success of the loan demonstrates AIIB's trust in the investment and business environment in Vietnam and in the prestige of Vietnamese enterprises such as PV Power. The loan from AIIB and Natixis to PV Power DHC will lay the foundation and create a premise for future investment activities of AIIB and Natixis in Vietnam, contributing to the development of Vietnam. Hyperion is very proud and honoured to be involved in this project of great significance."
AIIB is a multilateral development bank that has been in operation since January 2016 with the main objective of promoting sustainable economic development, prosperity, and infrastructure connectivity in Asia through infrastructure investment and other productive sectors. AIIB currently has 103 member countries (from the original 57 founding member countries) with a legal capital of $100 billion. Vietnam, through the representative of the State Bank of Vietnam, is currently one of the members of the AIIB Board of Directors for the 2020-2022 term. 2020 is the fourth consecutive year that AIIB has achieved the credit rating level which is comparable to other international financial institutions such as the World Bank and the Asian Development Bank. Specifically, S&P Global ranks AIIB at AAA/A-1+, Fitch Ratings at AAA/F1+ and Moody's Investors Service at Aaa/P-1. The high credit rating allows the bank to raise capital at low cost and long term, enabling it to provide loans and investments at attractive costs.
Natixis is a joint stock bank established in 2006 from the merger of two large financial institutions, Natixis Banque Populaire and IXIS. BPCE Group, the second-largest banking group in France, is a major shareholder owning more than 70 per cent of the shares in Natixis, while the rest is openly traded on the Paris Stock Exchange. Natixis has over 16,000 employees in more than 38 countries. The main business segments of Natixis include asset management, commercial and investment banking, insurance, and payments. In 2019, its revenue reached $9.2 billion.
Source:
https://vir.com.vn/pv-power-signs-95-million-credit-contract-89941.html
https://cafef.vn/cong-ty-con-cua-pv-power-ky-hop-dong-tin-dung-95-trieu-usd-voi-ngan-hang-aiib-20211214163511889.chn
https://nangluongvietnam.vn/ky-hop-dong-tin-dung-tai-cau-truc-nha-may-thuy-dien-dakrinh-27990.html
Photos: